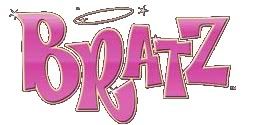 I love you to the moon and back,
And then way far beyond;
Without you here to give me life,
My heart does not go on.

For you, my child, were life to me,
The song within my soul;
Without you I am empty,
A half that once was whole.

No matter where you are, my child,
Just know you'll always be;
As close as my next heartbeat,
For your heart resides in me.

I'll always be your Mother,
You'll always be my child;
For in my heart, I'll keep your love,
And we'll never say goodbye.

I opened up a box one day
What treasures did I find!
Letters and some photographs
Of days we left behind
I drifted back to yesterday
The thought was oh, so clear
For just a moment, anyway
It felt like you were here
I smile when I think of you
Sometimes I cry so much
I'm all alone without you now
I crave to feel your touch
But God had other plans for you
An Angel he did find
So now my box of memories
Is all that's left behind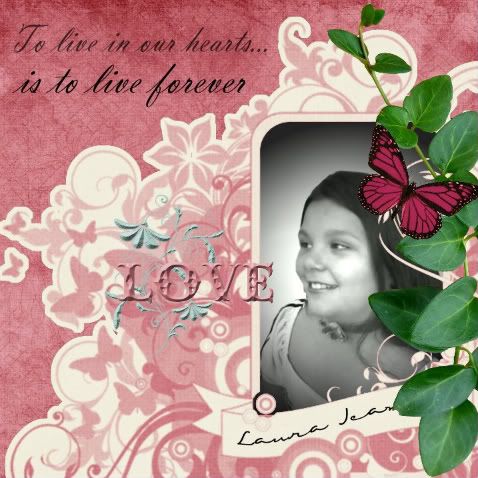 As The Sun Came Up This Morning
I Watched You There Below
Your Hearts Seemed Oh So Heavy
But There's Something You Should Know

I'm Not Gone So Don't Worry
I'm Just A Step Ahead
And I'm With You Every Single Day
As You Rise Up From Your Bed

I Am The Sun That Warms You
I Am The Moon's Soft Glow
I Am The Stars That Twinkle
And Light Your Path Below

So When At Times You Miss Me
Just Look For Me I'm There
For You Cannot Hide My Spirit
It Is With You Everywhere.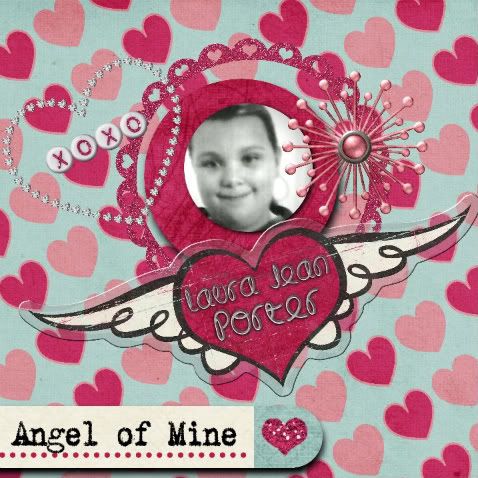 Dear God xx

have u got time to talk to me
i hope u understand
i need to know why laura
was part of your big plan



why did she have to leave us lord
where did my daughter go
she needs to be with us lord
the ones who love her so



if heaven is like i imagine
i know shed want to stay
with streets of gold beneath her feet
and angels all at play



with sunshine upon her lovely face
gentle breezes through her hair
we need her back where she should be
to show her how we care



ill never be complete again
for i am aching still
theres nothing left my soul has gone
i dont think i ever will



im clinging to my memories
like ive never clung before
she has gone across the river
but i cant reach the shore.



and so dear lord im asking you
please hear this mummys plea
please keep her safe,take all her love
and share it lord, with me
please do not take my poems
they were written for MY CHILD from MY HEARTXX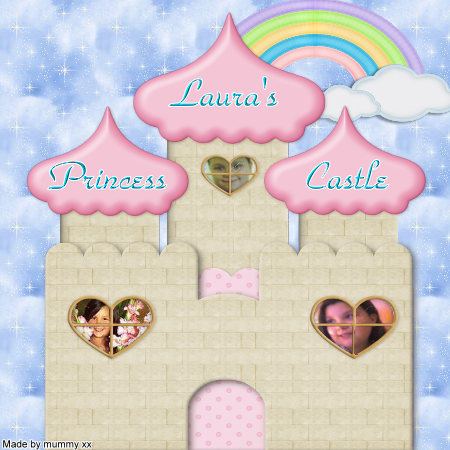 I am a royal princess
In my castle in the sky
I'm having so much fun up here,
On my pink clouds way up high.

I wear a grand tiara
with Jewels all around ,
And sometimes i remove it
Just to wear my royal crown.

All girls are princess'
be there can surely be
only one real princess
And that real one is me.

please do not take my poems
they were written for MY CHILD from MY HEART XX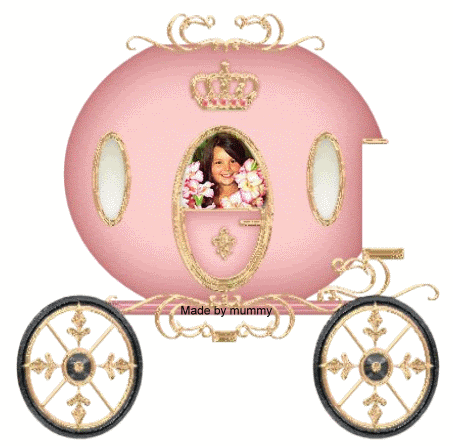 Do you know the phone number for Heaven?
I want to make a call.
Telephone directories ?
oh yes i've tried them all.



I asked the local vicar,
he talks to God, you see
I thought he had a direct line
but he was no help to me.



I tried the yellow pages
but nothing seems to fit.
I want to talk to Laura Jean,
for just a little bit



I need to know if shes ok
And if she made it there
Oh please just keep on looking
operator tell me where



ive searched the streets just looking
ive looked the whole world through
oh operator please place my call
I don't know what to do



Oh- Yes! Ive rang my local church
They were helpful in my call
But they couldn't find the number
Tacked upon their wall



Is the number listed operator
Can you put me straight through?
If I can hear her gentle voice
She'll tell me what to do



You say theres nothing listed
oh please just look again
im taking one day at a time
but struggling with this pain



thank you operator for your time
ill try just what you said
before I go to sleep tonight
ill kneel before my bed



ill put my hands together
and pray to god above
and ask him to give laura jean
her families precious love



i feel her with me all the time
but sad we had to part
when heaven took my laura back
it left my broken heart.
please do not take my poems
they were written for MY CHILD from MY HEARTXX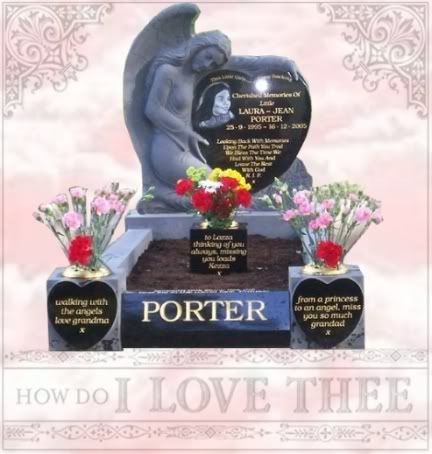 ill never let my laura go
Even though she died
She's with me every minute
In the pain i feel inside



When that dreadful thing happened
I thought i might forget
Her voice, her shape, her smile, her words
It hasnt happened yet



She's in my every waking thought
In all the tears ive cried
In every step throughout my life
ill walk with her inside



So in this constant agony
When it hurts to much to bear
Its just her way of telling me
That always she'll be there.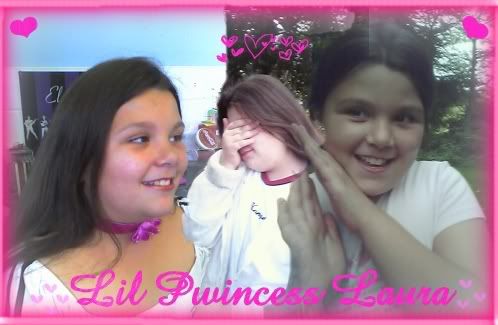 This site is created in the memory of our loved one, Laura Jean, our 10 year old angel, who collapsed and died while playing with friends. Laura had been allowed outside only briefly while her parents wrapped and hid her Christmas presents. Laura developed breathing difficulties and collapsed in a park close to her home in Halifax, West Yorkshire. The cause of her death is still a mystery. Her mother Sarah said, "When we arrived at the park, there where three paramedics trying to revive her. We just went to pieces and started screaming at them to wake her up." Sarah and Laura's father, Colin, have vowed to lay all of Laura's presents on her bed on Christmas Eve as usual so their "little princess" will know how much they loved her. "Christmas was her favorite time of year," said Sarah. She still believed in Santa. On her wish list this year were two dolls and world peace. We are just numb, we still haven't accepted that she is gone. She had been so excited about Christmas. We haven't turned the tree lights on since she died. On Christmas Eve we are going to lay all her presents on her bed so she can see them. Among the poignant momentoes Sarah has of her little girl is the Christmas card Laura made her. It read: "You brighten my gloomy days, when I see your smile, I smile too." Sarah said, "Everyone who met her, was touched by her. She always had a smile for everyone, even when she was a little girl." The whole family has been left stunned by Laura's sudden death and are struggling to come to terms with their loss. Colin said, "It's too quiet in the home now, Laura was always singing and so lively. We believe that when you are gone, you still see the last who were with you, and that was us." Laura's funeral will take place on the 23rd of December and a recording of her singing a carol will be played for the congregation. Colin explained, "Laura had just taken part in a Christmas concert. I had recorded her singing, Infant Holy, at home and we are having it played at the funeral. Wherever she goes there will be a light." Laura's brother Frank, 13, has also been deeply affected by his sister's unexpected death, but Colin said, "that he had been very brave throughout the tragedy. He has been suffering too, but he had been looking after all of us." Colin and Sarah had only allowed their daughter to play outside in order to catch up on gift wrapping. Sarah also had wanted to hide one of the dolls that Laura had been desperate for at a neigbours house. Laura and a small number of friends had been playing at Ackroyd Park, when she began to complain about feeling unwell. She started to struggle for breath and collapsed shortly afterwards. One of her brother's friends raced back to tell her parents what had happened. But despite paramedics arriving very quickly, there was nothing they could do to revive her. They had lost their "little princess."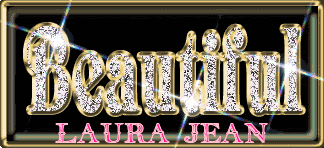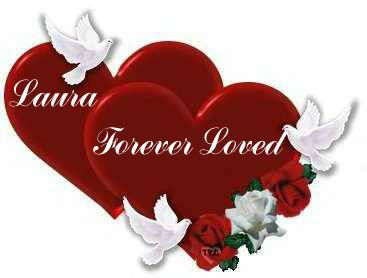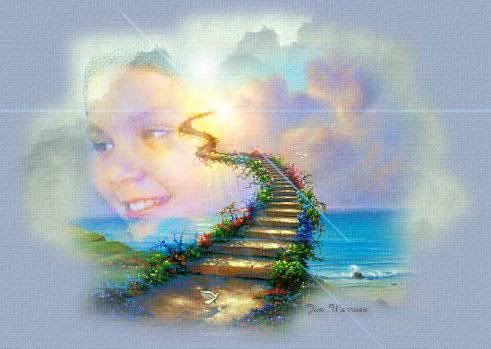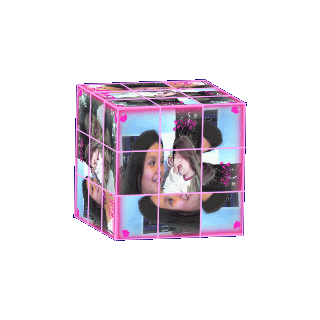 We wish you could come back again
just for a little while,
To see your loving face again,
to see your pretty smile.



To hold you in our arms again,
to sit and stroke your hair,
To creep in to your room at night
and see you sleeping there.



To walk to school together,
strolling hand in hand,
Why did you have to go my love,
please help us understand.



I know what you are thinking.
That you have been set free,
But my daily life is planned for four,
I cant get used to three.



We miss you Princess Laura,
The pain is still so raw.
We still sit and wait for you,
To come walking through the door.



Im asking God for just one thing
and will never ask again,
To let our Laura come back home
and stop this awful pain.



Please hear our cries and plea's Dear Lord,
Our worlds' an empty place.
We need to see her smile again,
We need to kiss her face.



The pain we are suffering can only be set free,
The day you hug our Laura Jean and send her back to me.
We will always love you princess,
love Mummy and Daddy xxx
written By sarah porter Lauras mummy



Beautiful Light

There's a beautiful light up in heaven
and the colours so bright that it glows
It appeared when our princess left us
and it follows where ever she go's



The angels all bowed down before her
as they welcomed the princess back home
They said I know that your parents are hurting
but you were only given on loan



They was singing and dancing before her
and one placed a crown on her head
The others laid flowers before her
by God's hand through the gates she was led



The angel of life stood before her
and told of her wonderful birth
I remember that day in September
the day you was blessed down on earth



We watched as you grew from a baby
to a beautiful precious young girl
How you loved all your friends and your family
how you loved being a part of the world



We will comfort your family from heaven
we will show them your'e doing just fine
and when they need to feel you around them
from heaven you can send them a sign



So dont worry about all your loved ones
Gods catching their tears as they flow
You're happy and safe here in heaven
and they will follow wherever you go



Written by Sarah, Lauras Mummyxxx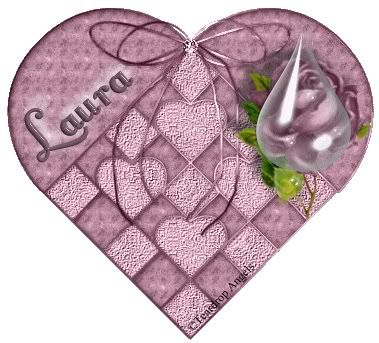 It must be very difficult
To be a man in grief,
Since "men don't cry"
and "men are strong"
No tears can bring relief.



It must be very difficult
To stand up to the test,
And field the calls and visitors
So she can get some rest.



They always ask if she's all right
And what she's going through.
But seldom do they take his hand,
"My friend, but how are you?"



He hears her crying in the night
And thinks his heart will break.
He dries her tears and comforts her,
But "stays strong" for her sake.



It must be very difficult
To start each day anew.
And try to be so very brave
He lost his baby too.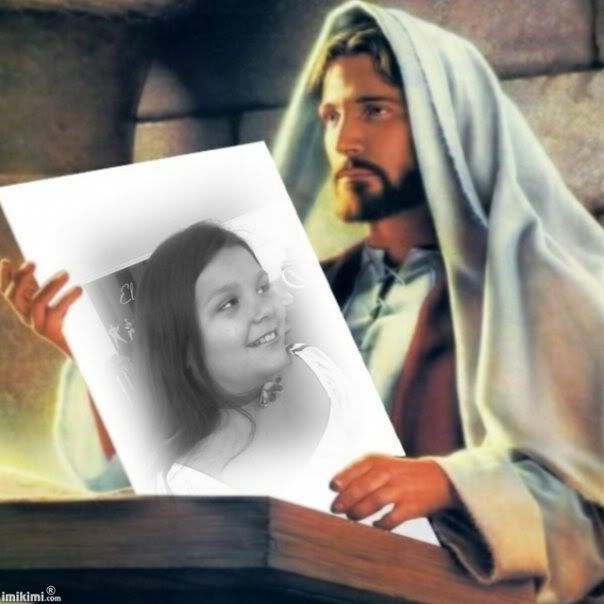 One night I cried to Jesus
as I sat beneath the tree,
I looked into the open sky
and hoped he'd answer me.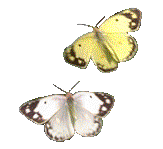 I'm lost, dear Lord,
I've traveled far but I still seem to roam,
Please light the way and lead me,
Lord; I need to get back home.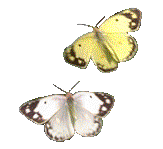 I told him of my burdens
and of the sadness in my heart,
That from his gracious love
I'd never felt so apart.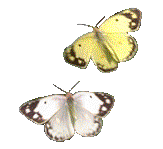 Why did you take my child, Lord? I cannot understand!
I'll never see her face again or hold her little hand
I'm angry, Lord, I'm missing her I'm drowning in my sorrow,
Please help to heal my yesterday and face each new tomorrow.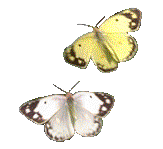 It was then I heard her gentle voice
and felt her presence near,
How I wanted to hold her as I cried another tear.
she said, "Mummy, I'm an angel now,
my spirit will be free,
I'm an angel now in Heaven
so please don't cry for me.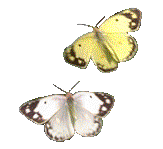 I was chosen by our Lord above
and now I'm in his care,
When you need me, look inside your heart,
I promise to be there.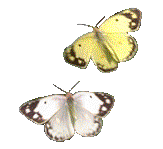 No one can ever take away our bond with one another,
For I'll always be your precious child
as you will always be my mother.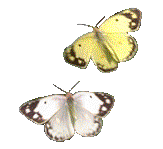 So if you cannot find your way
or the road to home seems far,
Just look up to the heavens
and I'll be your guiding star."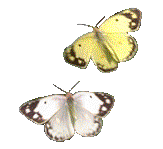 she said, "Mummy, I'm an angel now,
my spirit will be free,
I'm an angel now in heaven --
no need to cry for me






Forever we will miss you,
Forever we will cry,
Why did you have to leave this earth
And gain your wings to fly?



You know we loved you dearly,
More than anyone could know,
Why did you have to leave so soon
Why did you have to go?



Our hearts down here are broken,
And it can never mend,
Forever we protected you,
Until the very end.



We pray to God for answers,
We talk to him each day,
We hope that you can hear us Lord
As on bended knees we pray.



Take good care of our child up there,
She was much wanted here,
Wrap your arms around her please
And tell her we still care,



Let her know we love her so
And will forever more.
Keep her protected, safe and warm
And wrapped in love so pure.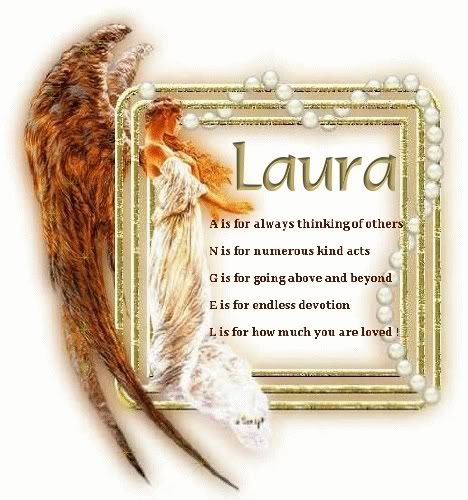 MISSING YOU
Last night I saw a vision it was clear as it could be
it filled my room with joy cause you were there with me.

I realised come morning that the vision wasn't there
I ached to have you near me why is it so unfair?

Then it struck me the vision was oh so very real,
and I knew there was a purpose which now I will reveal.

The truth is you are with me whether sleeping or awake,
my thoughts reveal your presence with every breath I take

and so my love I tell you even though we are apart,
day or night awake or in my dreams you live within my heart.

We love you so much Laura Jean xxx
Mummy and Daddy xxxx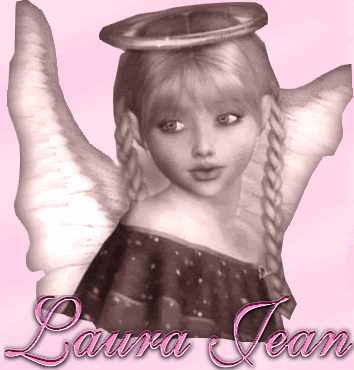 Whispers From Heaven
They say that life is fleeting
I know that this is true
I left this world so quickly
With no goodbye to you.

I know how much you miss me
Your tears fall ever light
The pillow where you lay your head
Is wet with them at night.

I know your heart is hurting
The words we left, unsaid
I love yous' left unspoken
Are spinning in your head.

For you see, while you were weeping
On the day I passed away
At the gravesite near the flowers
Where my loved ones knelt to pray.

An angel came to see me
She took me by the hand
She led me to a kingdom
In a very distant land.

As I look down from heaven
And see you standing there
Your heart so ever burdened
With more grief than it can bear.

I long to bring you comfort
I long to give you peace
i want to say i love you
Cause all your tears to cease.

The joy I've found in heaven
Goes far beyond compare
The love that's so elusive
Can be found here everywhere.

The light is softly shining
There's no storm clouds here or rain
There's no teardrops found in heaven
There's no suffering, there's no pain.

You needn't be so troubled
Stay close to God and pray
That someday we'll be together
One bright and sunny day.

So mummy, you shouldn't question
My daddy you need not cry
I've gone to be with Jesus
I really didn't die.


Dear god,
You sent a child to me
To fill my life with joy,
And only You knew which was best --
A little girl or boy.
Somehow I took for granted, Lord,
That we would have a lifetime,
And I made so many future plans
For that precious girl of mine.
Enchanted by that Miracle,
Caught up in each new day,
I guess I didn't hear You, Lord,
When You said, 'This one can't stay.'
I trust You, Lord. Thy will; not mine,
Yet I can not understand
This sudden loss -- the emptiness --
Lord, guide me with your hand.
I know my child's an angel now
But my heart is aching so.
I'm sorry I wasn't ready, Lord,
To let my laura go.
There wasn't time for one last hug;
There was no final kiss.
Oh God, it's all those special smiles
That I already miss.
So Lord, could you do just one thing
For me especially?
Please hold my angel close to You
And say goodbye for me.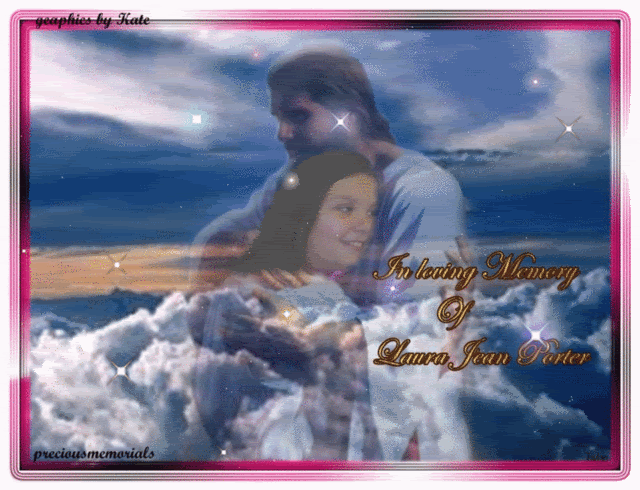 Do you know how much we miss you?
Do you know how sad we are?
Do you know we'll always love you?
Do you see us from afar?

I know how much you miss me
I know how sad you are
I know you'll always love me
I can see you from afar.

Can you hear us say we love you?
Can you hear our mournful tears?
Can you hear our hearts breaking?
Can you help us ease our fears?

I can hear you say you love me
I can hear your mournful tears
I can hear your hearts are breaking
And I can help you ease your fears.

When you feel a gentle breeze
Across your cheek so free.
Embrace the feeling that you get
Because it's an angel kiss from me.

And when you hear the whistling wind
Blowing the branches of a tree.
Remember that now I have wings
And I am flying free.

Love Diane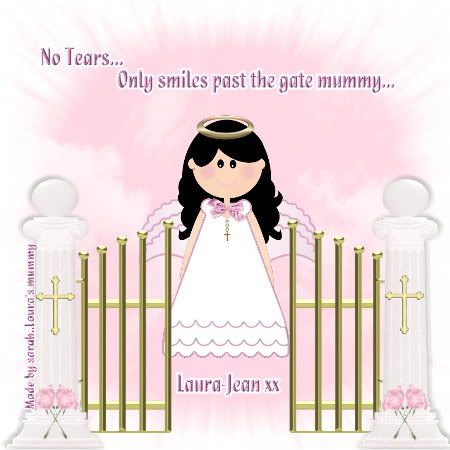 My Grief
My grief is like a river,
I have to let it flow,
but I myself determine
just where the banks will go.

Some days the current takes me
in waves of guilt and pain,
but there are always quiet pools
where I can rest again.

I crash on rocks of anger;
my faith seems faint indeed,
but there are other swimmers
who know that what I need

Are loving hands to hold me
when the waters are too swift,
and someone kind to listen
when I just seem to drift.

Grief's river is a process
of relinquishing the past.
By swimming in hope's channels,
I'll reach the shore at last.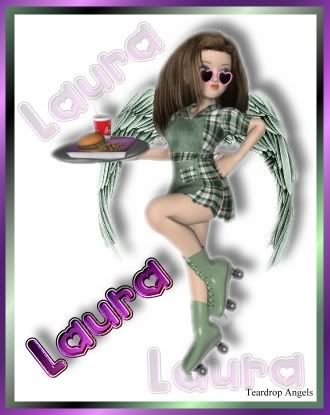 In 1995, 6:26 p.m. the 25th of September,
A princess was born, a day we'll treasure and remember.
Born into a family who would love and cherish her so,
They would give her kisses and watch her face glow!

This precious little girl adored Frankie, her brother
And she loved the color pink more than any other.
Sweet treats would make her tummy smile,
Only making her sweeter, all the more worthwhile!

Boxing, hockey, tennis and netball, she played them all,
As captain she named her team Laura's Latics in football.
The princess loved school so much she never missed a day.
She loved Jesus and her girls brigrade where she could pray.

She had to have Mommy cuddle and tickle her tummy each night
And ran to give Daddy good morning kisses first with morning light.
Laura loved her Nana Jean and visited her gravesite every week.
Everytime she went she'd get an Angel kiss from Nana on the cheek.

She adored people and really loved helping them,
Her beauty and her kindness made her shine like a gem!
Laura sang all day and all night, everywhere, near and far,
She really loved music and she was a singing star!

Movies, ice cream and popcorn, is something she loved to do,
She enjoyed drawing and making cards for people too.

Princess Laura was outside playing, enjoying the Holiday Season
When Jesus embraced her and took her for a greater reason.
It was Christmas time, her favorite time of year,
Her family mourned and wept tear after falling tear.

Where there was once light, there is dark they think,
After all their Princess was gone as quick as a blink.
Beautiful Angel Laura sends a message and all her love,
They sprinkle down from her pink clouds above.

I continue to be the shining light in your heart,
I will always and forever be there, my love didn't depart!
Mommy, Daddy, Frankie, Do not be sad, for my life did not cease,
Soon the world will hold hands because now I'm an Angel of Peace.





In a quiet little cemetary
where the gentle breezes blow,
lies my Laura, who I love dearly
she died a while ago.


Her resting place I visit,
place flowers there with care
but no one knows my heartache
when I turn and leave her there.


Though her smile is gone forever
and her hands I cannot touch,
still I have so many memories
of the girl I love so much.


Her memory is my keepsake
which I will never part,
God has her in His keeping
but I have her in my heart.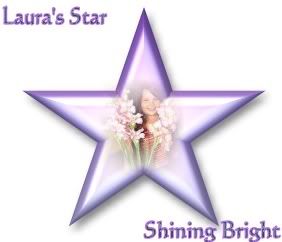 Laura's Rainbow

A rainbow appeared up in the sky
for all the world to see,
a rainbow placed up in the sky
was put there just for me.


Mummy, I heard you prayin last night
for a little peace of mind,
so I sent you down this rainbow
so you'd know it was a sign.


I asked God for some ladders
so I could paint the sky,
a paint brush and some coloured pots
and this was his reply,


Go ahead my child, you paint the sky,
if it makes your mummy smile,
if it helps to ease her broken heart
just for a little while.


What colours are you going to use,
he asked my Laura Jean.
I'm going to paint a rainbow
from pink right through to green.


I'm going to paint the first arch red
the love thats in my heart.
Then sunshine yellow to shine on them
when the morning starts.


The third one shall be pink of course
just like my princess crown,
and when my daddy see's it,
he'll know I'm shining down.


Then green to spread across the sky
for Frankie, my big bruv,
he misses me so much you see
and I can send him down my love.


Orange to light the sky up bright
for all my friends to see,
so they know that when I came here
I brought their love with me.


Purple for the angels here
and all their families too,
so they can see the rainbow
and won't feel down and blue.


Blue to finish my rainbow,
paintings really fun.
i just saw mummy smiling,
my job up here is done.

written by sarah, lauras mummy xx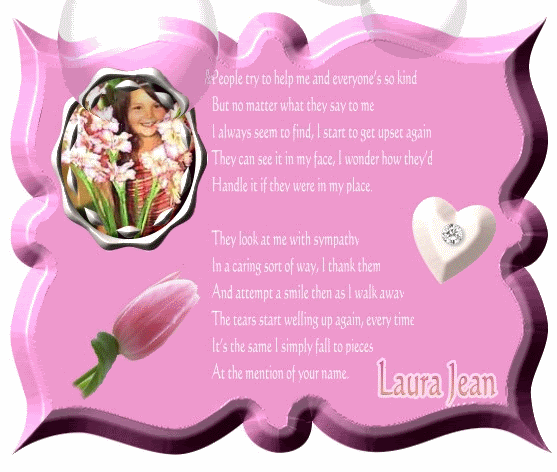 You've just walked on ahead of me
And I've got to understand
You must release the ones you love
And let go of their hand

I try to cope the best I can
But I'm missing you so much
If I could only see you
And feel your gentle touch

Yes, you've just walked on ahead of me
Dont worry I'll be fine
But now and then I swear I feel
Your hand slip into mine

love mummy and daddyxxxxx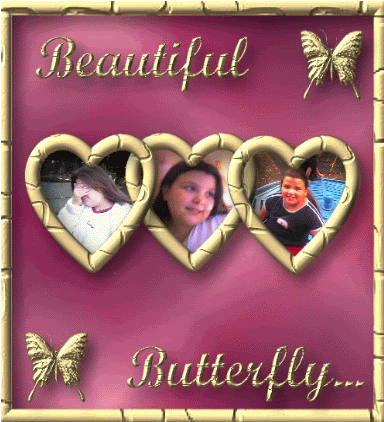 A light went out on Earth for me
The day we said good bye
And on that night a star was born
The Brightest in the sky
Reaching through the darkness
With its rays of purest white
Lighting up the heavens
As it once lit up my life
With beams of love to heal
The broken hearts you left behind
Your always in our memory
Your star will always shine